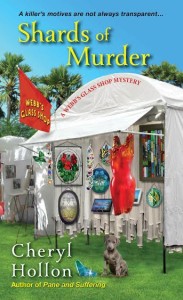 Mass Market Paperback,
352 pages
Also available in ebook format
"A fresh and original new series!" --Krista Davis, New York Times bestselling author


When a glass-making competition turns deadly, glass shop owner Savannah Webb must search for a window into a criminal's mind…

As the new proprietor of Webb's Glass Shop, Savannah has been appointed to fill her late father's shoes as a judge for the Spinnaker Arts Festival, held in downtown St. Petersburg, Florida. With her innovative glass works, the clear winner is Megan Loyola, a student of Savannah's former mentor.

But when Megan doesn't show up to accept her $50,000 award, rumors start flying. And when Savannah discovers the woman's dead body on festival grounds, the police immediately suspect her of murder. To keep from appearing before a judge herself, Savannah sorts through the broken pieces of glass scattered around the victim for clues as to who took this killer competition too far…
"Cheryl Hollon clearly knows her glass craft, but better still, she also knows how to craft a good mystery." --Sheila Connolly, New York Times bestselling author
What I Thought:
When Savannah is asked to judge a glass-making competition, she is once again under suspicion when the winner does not show up to claim their prize, because they were murdered. Savannah and her zany group of friends have to try to find the killer again. This was a great cozy that had a great plot and many twists and turns. This one kept me turning the pages and kept me guessing till the very end. It was a very well written book and I highly recommend this series to anyone who loves cozy mysteries.
Cheryl Hollon
Cheryl Hollon writes full time after she left an engineering career of designing and building military flight simulators in amazing countries such as England, Wales, Australia, Singapore, Taiwan and India. Fulfilling the dream of a lifetime, she combines her love of writing with a passion for creating glass art. In the small glass studio behind her house, Cheryl and her husband design, create, and produce fused glass, stained glass and painted glass artworks.
She is a member of Sisters in Crime, the Florida Chapter of Mystery Writers of America and the Tampa Chapter of the Romance Writers of America. A mystery conference addict, she regularly attends SleuthFest in Florida, Malice Domestic in Washington, D.C., and New England Crime Bake in Dedham, MA. Cheryl and her husband live in St. Petersburg, FL in a 1920's Craftsman Bungalow. Learn more at

www.cherylhollon.com

.