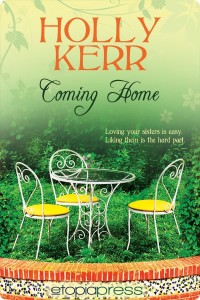 Loving your sisters is easy. Liking them is the hard part.
Brenna Ebans always wanted more than what Hill n'Valley could give her, so it seemed a simple decision to follow her black-sheep sister Dory's footsteps and leave Hill n'Valley in her rearview, hoping to locate their missing father. Leaving her sisters and her first love Seamus was harder than she thought, but she's made a life for herself in Vancouver, started her career at a prestigious law firm, and has found the man of her dreams. But when she finds her husband Toby in a compromising position at work, she loses both her love and her job, and has nowhere to go but home.
Youngest sister Cat has remained in Hill n'Valley, leaving a string of broken hearts—and ex-husbands—in her wake. She's happy living in the family home, with the ghost of their dead mother to keep her company during the day, and her latest conquest—Brenna's old boyfriend, Seamus—to keep her warm at night. And she's less than thrilled to hear about Brenna's return.
But when tragedy strikes, it brings their father back to Hill n'Valley, and the sisters will have a lot of issues to resolve….
My Review:
This is a story about family and, like the title says, coming home. Brenna comes home to Hill n'Valley after a bad break-up with her husband. There is tension between two of the sisters. This was a well written story and end really well.
I received a complimentary copy of this book for my honest review.
Guest Post:
10 Things to Know About Holly Kerr
*I worship the creative genius of Joss Whedon! He could write those drug warnings in magazines and I would devour every syllable.

From Buffy to the Avengers, Firefly to Dollhouse,

I love everything he's done, except that cabin in the woods movie because I don't do scary movies any more
*I used to watch a lot of horror movies as a teenager, and now I don't because I'm older and wiser and don't enjoy being scared silly.

Plus, it's scary enough raising kids – I don't need the added stress!
*I also love anything Star Wars related and even have an extensive collection of the books.

While I'm sad the new Star Wars movie won't be following the books, I'm still waiting with bated breath for the 2016 release date and will be there on opening day in my Princess Leia outfit!

I'm in awe of how George Lucas's vision of a simple tale of good vs. evil created an entire world of interconnecting books, movies and videos
I find it difficult to do anything without music in the background.

You'd think with kids, I should relish the quiet, but no.
*I like mayo with my French fries instead of ketchup. Garlic mayo preferably. St. Louis' garlic dill sauce would be best
*I love roller coasters but not the way my head feels after I ride them. My limit is now 5 in one day. :(
*I make the best mushroom risotto of anyone I know. Not to brag but this includes professionals
*I hate the taste of coffee but love the smell except when I've spent too long in Starbucks and then I really hate the smell of myself. I do love their green tea lattes though
*I prefer potato chips over chocolate and sometimes feel I might be the only women who does, except my mother.
*I would love a dog but I love my husband and he does not love dogs.

So I like to borrow my friends'