Picture and Synopsis from Goodreads
Spring is in the air, but the ladies of the Cumberland Creek Scrapbook Crop hardly have time to stop and smell the roses. Not when famed Irish dancer Emily McGlashen is found murdered in her studio just after the St. Patrick's Day parade--and one of the Crop's own members is the prime suspect. Vera's dance studio may have suffered when Emily waltzed into town, but the croppers know she's not a vengeful murderer. Lucky for her, co-scrapbooker Annie is a freelance reporter eager to vindicate her friend. What she discovers is a puzzling labyrinth of secrets that only add question marks to Emily's murder. Just when it seems they've run out of clues, an antique scrapbook turns up and points the croppers in the right direction--and brings them face to face with a killer more twisted than a Celtic knot. . .
My Review:
This was a book that kept me on the edge of my seat. The only thing about this series is that if you haven't started at the beginning, you are a little lost. This was my first trip to Cumberland Creek, but it won't be my last. This book is filled with intriguing and quirky characters. Beatrice is a real trip and I think she is someone I would like to get to know. Mollie is a very good writer, so the story flowed really well. I highly recommend this series.
I received a complimentary copy of this book for my honest review.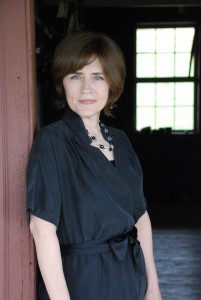 Author info from Molliecoxbryan.com
After years of working as an editor and writer for nonprofits and corporations in the DC area, Mollie gave it all up for the "glamorous" life of a stay-at-home mom and part-time freelance writer. When she moved to the Shenandoah Valley of of Virginia, she heard stories about the famous Mrs. Rowe's Restaurant and its owner, Mildred Rowe. Intrigued, she investigated and found most of the stories were true. Two cookbooks later, Mollie turned her writing skills to penning mysteries. One of her goals as a writer, as a person, is to explore many venues, genres, and to continue to learn and grow.
She grew up in Western Pennsylvania in a rural area (Raccoon Township) just outside of mill town Aliquippa, known for its football greats. She danced, did gymnastics, and wrote all the way through her youth. She started many novels—but finished her first one when she was a senior in high school. It was called "Circles" and featured a ballerina involved with a gang.
Today, she is the mom to two daughters who both dance and write. For Mollie, writing is like dancing, breathing, and love. She doesn't go a day without it