ABOUT AWAKENED LOVE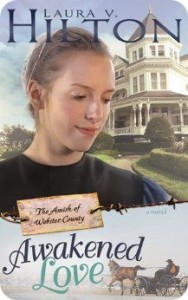 Title
: Awakened Love
Genre:
Amish Contemporary Romance
Author
: Laura V. Hilton
Publisher
: Whitaker House
Pages
: 288
Language
: English
ISBN
: 978-1603745086
Format
: Paperback, Kindle
Katie Detweiler grew up Amish, never knowing she was adopted as an infant. Now an adult, her new job as cook at an Amish bed and breakfast doesn't bring about the euphoria she hoped for. Just as she's getting her menu perfected, the Englisch family and severely ill sister she never knew existed enter her life and strain her Amish relationships. Plus, Katie suddenly has two different men vying for her attention—one Amish, one Englisch—and she wonders if one of them could be the man of her dreams. But when her Englisch sister's health worsens, Katie must find a way to balance her heart, her job, and her faith while risking her own life for the sister she never knew.
He's hiding from a cold-blooded killer; her Amish identity has been stripped away. Both must find a way to balance their hearts, their jobs, and their faith

My Review:
This was a great book. It started kind of slow for me, but it soon picked up and I didn't want to put it down. It had a lot of secrets and action in it. Katie is a very shy girl, who has a hard time talking to buwe (boys). But when she meets Abram, that all changes. Abram is interested in Katie, but she thinks it is all a joke, especially when her "friend", Patsy, says that Abram is interested in her. Throw in that Katie is being stalked, Abram has a lot of secrets at home, and so does Katie's family, and this is a great exciting read. Great job, Laura, I really enjoyed this.
I received a complimentary copy of this book for my honest review.
ABOUT LAURA HILTON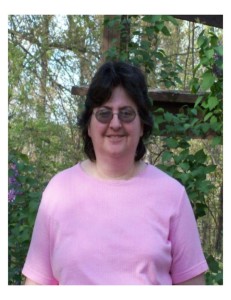 Award winning author, Laura Hilton, her husband, Steve, and their five children make their home in Horseshoe Bend, Arkansas. She is a pastor's wife, a stay-at-home mom and home-schools three of her children. Her two oldest children are homeschool graduates and are in college. Laura is also a breast cancer survivor.
Her publishing credits include three books in the
Amish of Seymour
series from Whitaker House
: Patchwork Dreams
,
A Harvest of Hearts,
and
Promised to Another.
The
Amish of Webster County
series,
Healing Love
.
Surrendered Love
and Awakened Love
. A nonAmish book
Swept Away
will
release November 2014 from Abingdon Press. She is contracted for another three book Amish series with Whitaker House,
The Amish of Jamesport,
releasing in April 2014, September 2014, and April 2015. Laura is a member of American Christian Fiction Writers. Laura is a professional book reviewer for the Christian market, with over a thousand book reviews published at various online review sites. You can find Laura at
http://lauravhilton.blogspot.com
http://lauravhilton.blogspot.com
or
http://lighthouse-academy.blogspot.com/
.
Guest Post:
How I Started Writing Amish Fiction
By Laura V. Hilton
My interest in writing Amish fiction stems from several sources—family, friends, and first-hand experience. Every year my aunt and uncle would make a detour through Pennsylvania Amish country on their way to Florida. My aunt would come back with souvenirs from Amish country: collectible spoons with a horse and buggy at the top, Amish figurines, and picture books.
As I got older, I discovered one of my friend's parents owned a German Bible. I told my mom about it, and she showed me my grandfather's German Bible. She shared that my grandparents had left the Pennsylvania Amish and moved to Michigan— at first to the Amish community, then later to an area around Frankenmuth when they completely cut Amish ties, but still kept German ones. My grandfather always spoke German on the farm, but I was raised with little knowledge of the language, so when I came to visit, they spoke English. Mom taught me a few German words.
After I moved away from home, one of the small towns I drove through on the way to visit Mom had an Amish community. It was always a thrill to see the Amish buggies. Years later, when I started writing, another author suggested I look at my bookshelves and see what genre most of the books were. That is the one I should consider writing. My collection ranged from historical to contemporary, including Amish fiction. I thought it'd be fun to try and see if I could write Amish novel. Since my husband's aunt lives in Missouri near a large Amish community, and it's close to home, I have access to the area—and first-hand Amish news. I enjoy learning part of my heritage while telling the stories God gives me.