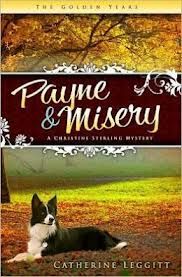 Christine Sterling has developed a reputation for jumping to wild conclusions. With such an imagination, who is likely to take her seriously when she discovers a bruised and neglected neighbor named Lila Payne? Try as she might, she cannot interest anyone in Lila's dire need for immediate rescue. Something about crying wolf once too often.
But then Lila and Christine's beloved dog Molly both disappear the same night.
If no one will help her, she must find Lila and Molly herself. Heedless of possible consequences, Christine dives headfirst into a dark pool swirling with muddy secrets and misery. Her best friend throws her a lifesaver of prayer and soon she begins to sense God at work. But even with God's help, can Lila and Molly be saved before it's too late?
My Reveiw:
This book was okay, I would have liked a little bit more mystery. Christine was a pretty likable character. She's "nosy" and alwasy wondering what is going on. She pays a visit to her neighbor and suspects all kinds of things. What happens next is a pretty crazy ride for her to find the truth. This book is filled with eccentric characters. It had humor in it also, but the best part was the character leaning on GOD to find the answers to the mystery. Good job Catherine.
I received a complimentary copy of this book for my honest review.