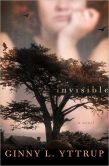 Ellyn DeMoss -- chef, café owner, and lover of butter -- is hiding behind her extra weight. But what is she hiding? While Ellyn sees the good in others, she has only condemnation for herself. So when a handsome widower claims he's attracted to Ellyn, she's certain there's something wrong with him. Sabina Jackson -- tall, slender, and exotic -- left her husband, young adult daughters, and a thriving counseling practice to spend a year in Northern California where she says she's come to heal. But it seems to Ellyn that Sabina's doing more hiding than healing. What's she hiding from? Is it God? Twila Boaz has come out of hiding and is working to gain back the pounds she lost when her only goal was to disappear. When her eating disorder is triggered again, though she longs to hide, she instead follows God and fights for her own survival. But will she succeed? As these women's lives intertwine, their eyes open to the glory within each of them as they begin to recognize themselves as being created in God's image
My Review:
This was a very good book about three women who are having certain health issues and their struggles.

They aren't regular health issues, like cancer or anything like that; they are more on the mental health side.

The character of Ellyn is very likable.

She is a chef and owns her own restaurant. She has a love of butter and has decided that she will never get married.

Then there is Sabina, she comes to Mendocino to work through some issues.

Last, there is Twila, she grew up in the small town and has come back.
I came to really love these characters as they worked through their struggles, they end up helping each other out, but in the end realize they need to give their struggles over to GOD for complete healing, and they also realize they are made in GOD's image and that he loves them the way they are.

I think this was a really lovingly told story.

It had so much compassion.

Ginny Yttrup did an excellent job with this book.

I highly recommend this book.
I was given a complimentary copy of this book for my honest review.