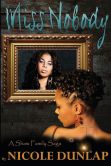 Picture from Barnes and Noble. Synopsis from Amazon.com
How far are you willing to go for fame? Fifteen-year-old Charlene Shaw runs away from home to pursue dreams of becoming an actress. Taking a chance, she meets a truck driver with a cross around his neck. She's always been a bit hesitant about God granting her "luck," but takes this as a golden opportunity to get closer to her goal. On the rugged road to stardom, Charlene's using everything in her might to erase the past and the baby she abandoned--her daughter, Raven. Just thinking about Raven sends chills of fear down Charlene's spine.

Meanwhile, Raven Shaw grows up in her mother's hometown, tight-knit Bellwood, North Carolina and has been dubbed "Miss Goodie Two Shoes." She's head of the children's choir, but nothing can calm her rage when someone gossips about her mom--she takes up for a woman she doesn't even know. On a mission, Raven wants to learn about Charlene, but her grandparents and people of the small town won't reveal anything. All the while, she finds love. Now Raven knows she can't be fully committed to the man that has her heart until she learns why her mother neglected her. When mother's and daughter's path collide, Raven asks her mother two requests--two family secrets that can ruin both of their lives. Leading Charlene and Raven down the road of feeling like... a "Miss Nobody."
My Review:
I'll admit this book was kind of slow going at first, but about halfway through, I couldn't put it down. It is the story of Charlene Shaw, who ran away from home when she was fifteen. She headed for Hollywood, but has many struggles, among them, having a child that she gives up. Her daughter ends up at back home with her grandparents. Raven has struggles of her own. She finally finds her mother, but things don't go the way she had hoped and Raven has even more struggles. There are a lot of shocking secrets in this book.
This is a powerful book that shows how the actions of parents and grandparents deeply impact children and what happens in their life. I'm looking forward to the next installment of this Shaw Family Saga. Great job Nicole. I recieved my copy from the author for my honest review.