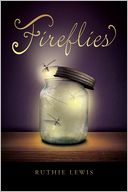 Book and synopsis from Barnes and Noble
Overview
I'm so different now, so different from the naïve high school senior full of heart and dreams. Like a firefly whose very being lights up a summer night like a Fourth of July sparkler, my soul's light was at its brightest.

Tammy and Charla have been friends since childhood, but lost touch when life took them separate directions. In their time apart, both women have found themselves in situations far beyond their control.

Tammy Trovich had been full of dreams, but had sacrificed and forgotten them all. Truth collides with her head-on when she realizes she's been caught like a firefly in a proverbial jar, living a life of have-to and supposed-to, when all the while, freedom was only inches away.

Despite many obstacles, Charla Calibrisi thinks she's living her dream as a news anchor, but when her husband's aggressive behavior mirrors her dark past, will she allow the truth she has buried to be excavated, or will she be buried with it?

Trapped in a jar with their lights dimming, both women wrestle with their devotion to the sanctity of marriage. To what limit will Tammy and Charla let their lives grow fainter before their light is extinguished...unable to emanate even the faintest glow?

Fireflies is Ruthie Lewis's debut novel, a glimpse into the twisted lives of marriage, what it means to be a woman, the lies they believe, and the choices they make.
My Review:
This was a profound story. It is the story of two friends who lost touch for a while, but then reconnect. It is the story of their marriages. One in a physically abusive marriage, the other in a mentally abusive marriage.
Charla Calibrisi is a successful journalist, but her husband abuses her. When she finds out that she is pregnant she decides it is time to leave him. Her good friend Tammy Trovich is there with her every step of the way. Tammy is in a rocky relationship herself. She is a stay at home wife and mom and her husband uses that against her a lot, demeaning her that she doesn't contribute financially to the marriage. Both women go through miraculous changes and find themselves stronger for what they have been through.
If you are in an abusive relationship, mentally of physically, I hightly recommend this book. Even if you aren't in a relationship like that, I still recommend this book. It was wonderful. Good job Ruthie.
I was given a copy of this book by the author for my honest review.